You may be thinking why the repost, well I want to link it up with A Teacher without a Class
Dollar Days
Linky party since all of my bargains were just $1.00 each!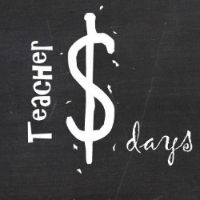 This week I found these small pencil sharpeners for twenty-five cents at Office Depot.
The wall sharpener in my class doesn't work very well, and I don't allow students to sharpen colored pencils in the electric sharpener, so these small sharpeners will come in handy.
Repost From Last Wednesday: Back-to-School Bargains
Back-to-School is in the air! The stores are setting up their back to school shops and with good reason; 25 official days of summer vacation left before I return to work, which means a little over 30 days before the students return. WOW!!! This does make the perfect time to shop for bargains. I found the perfect bargain at Target yesterday, which sparked the idea for this linky party; Back-to-School Bargains.
Here's how it works:
1. Shop.
2. Find a good deal.
3. Brag...I mean blog about it.
4. Grab my button and link up.
Now for my bargain...Yesterday, I stopped by Target, and in the Dollar Spot, I found all sorts of Dr.
Seuss
items. Perfect for my Dr.
Seuss
themed classroom this year! Plus, I love Dr.
Seuss
!
Pencils and erasers will make great rewards.
Bulletin Board decorations
Bags that I'm going to use for guided reading supplies. These will look so much nicer than my current zip-lock bags.
I couldn't leave my son out. Flash cards, dinner set...oh the socks are mine:)
There were also bookmarks, I have many Dr.
Seuss
bookmarks already, and stickers that I didn't pick up. Not to mention all the other back-to school dollar items that were not Dr.
Seuss
. Hurry, check out Target Dollar Spot before they're gone. Remember to link up with your
Back-to-School Bargains
or
Dollar Deals
.